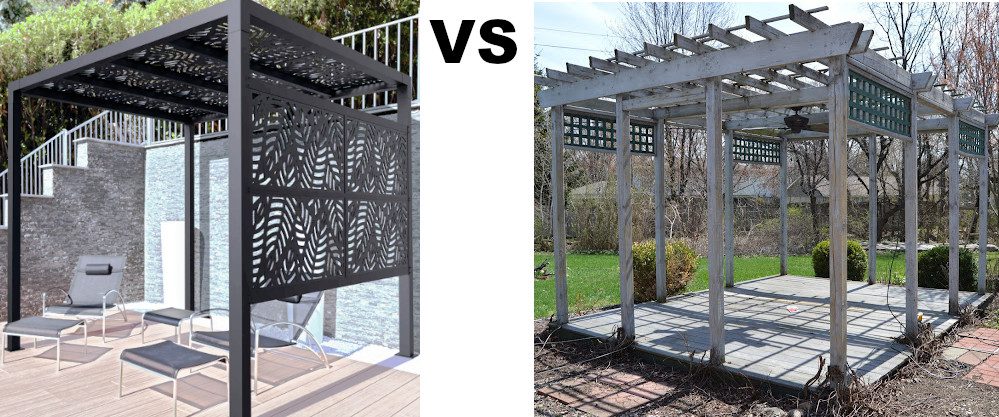 Aluminum and wooden pergolas are both popular choices for outdoor structures, but they have distinct differences that make each unique. While both materials have their advantages, here we explore the benefits of aluminum pergolas, highlighting why they are favored by many homeowners.
The Green Choice
In terms of sustainability, aluminum is an eco-friendly choice. It is 100% recyclable, allowing for reduced environmental impact compared to wood. By choosing aluminum, you contribute to the conservation of forests and promote a greener future. In contrast, when wood is painted or stained the wood is classified as hazardous waste, cannot be recycled or reused and incurs additional dump fees when they are removed.
Low Maintenance Beauty
Aluminum is a lightweight and durable material, making it an excellent choice for pergolas. Unlike wood, aluminum does not rot, warp, or deteriorate over time. This durability ensures that aluminum pergolas require minimal maintenance, saving you time and effort in the long run. In contrast, wooden pergolas often require regular staining, sealing and painting to maintain their appearance and structural integrity.
Weather Resistant Style
One of the significant advantages of aluminum pergolas is their resistance to weather conditions. Wood can be susceptible to damage from rain and prolonged exposure to sunlight. Over time, wood can fade, crack or even develop mold and mildew. Aluminum, on the other hand, is highly resistant to moisture, UV rays and temperature fluctuations. This makes aluminum pergolas ideal for regions with harsh climates, ensuring that they retain their beauty and functionality for years to come.
Flexible Design
Another key advantage of aluminum pergolas is their versatility in colors, design and style. From traditional white to tan, brown, green and more, the options of colors allow you to match your style and decor. Aluminum can be easily shaped and molded into various profiles and patterns, allowing for a wide range of design options. Whether you prefer a contemporary modern look or a more traditional and ornate design, aluminum pergolas can be customized to suit your aesthetic preferences. Wood, while naturally beautiful, has limitations in terms of design flexibility as it requires intricate craftsmanship to achieve certain shapes and styles.
Cost Effective Installation
When it comes to installation, aluminum pergolas offer convenience and ease. Due to their lightweight nature, they are relatively simple to assemble and install, often requiring fewer labor hours compared to wooden pergolas. This not only saves homeowners money on installation costs but also reduces the disruption to their outdoor spaces during the construction process.
Long-Term Comfort
Furthermore, aluminum pergolas are known for their longevity. The material's inherent strength and resistance to environmental factors contribute to their extended lifespan. This means that investing in an aluminum pergola ensures a long-term outdoor structure that will continue to enhance your outdoor living space for many years.
In conclusion, while wooden pergolas have their merits, aluminum pergolas offer distinct advantages that make them a popular choice among homeowners. Their durability, resistance to weather conditions, versatility in design, ease of installation, and long lifespan make them a compelling option. Moreover, the sustainability factor associated with aluminum adds to its appeal. If you seek a low-maintenance, aesthetically pleasing, and long-lasting outdoor structure, an aluminum pergola is an excellent choice that will undoubtedly elevate your outdoor living experience.
Call NOW for a FREE Basic Digital Design, Consultation and Estimate or Click Here to Book Today!